The Scanner is delivered to you in a carton box. Inside the box is a smaller box and a metal case. In the smaller box are the accessories of the scanner. These include, cleaning brush and cloth and a sample cup. The metal case contains the scanner next to it includes the charger and calibration cap.
The inside of the scanner includes a battery circuit board, NIR (near infra-red) light source and a LET light source. The outer part of the scanner consists of metal, plastic and inside some rubber protection. Below Shows an overview of the outside specification of the scanner and calibration cap.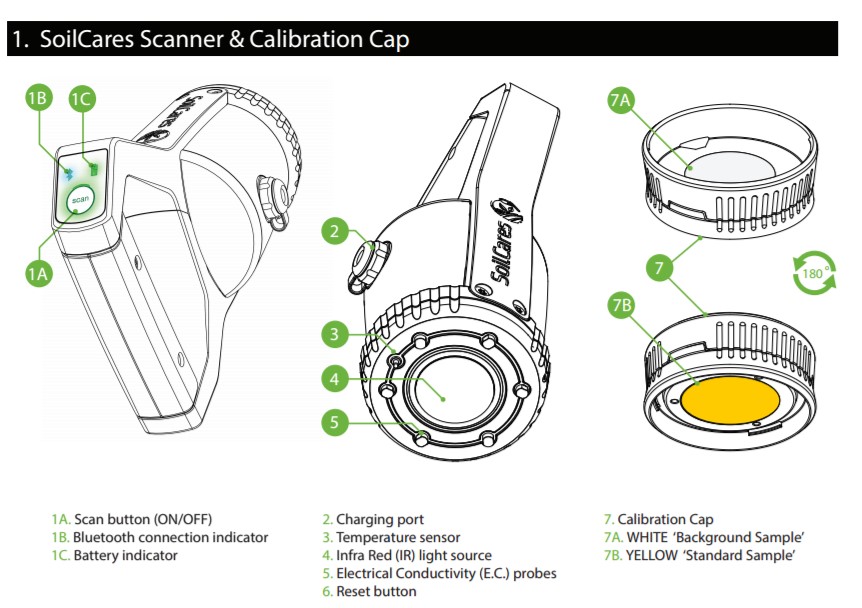 Battery:
The scanner needs to be charged for 11 hours on a one ampere power socket. The adapter converts the power to 5V and 2.1A. The Scanner is charged with the 5V output. A scanner can be charged on all type of plugs. The limiting factor is the 1 ampere output. Therefore, the power socket should not have a lower output than 1A. If this is the case it doubles the charging time.
Connection:
It can be connected with an android smartphone via Bluetooth. The Bluetooth connection makes it possible to send scans from your scanner to the SoilCares system. Sending your files to the database costs about 100kb and retrieving the results from the database costs 100 to 200 kb depending on the size of a complete report (e.g. when 1 crop is selected the size of the advice will be smaller than when 3 crops are selected).