How does SoilCares analyses and define the soil texture of a sample?
Soil texture is one of the most fundamental properties in the soil. Physical and chemical behavior of the soil is strongly influenced by the soil texture and therefore affects the availability of air and nutrients. Additionally the soil texture plays a vital role in providing information about the workability, water holding capacity and rate in which water and nutrients can enter and move through the soil.
Therefore, Soilcares uses for its soil texture classification the widely used soil classification system the USDA, which is solely based on the grain size distribution (USDA 1978).
The primary classifications showing the particle size of each soil type:
Sand – particle sizes from 2.0 to 0.05 mm in diameter
Silt – particle sizes from 0.05 to 0.002 mm in diameter
Clay – particles smaller than 0.002 mm in diameter
According to the USDA soil texture triangle 12 soil classes are defined (see below Fig. 1).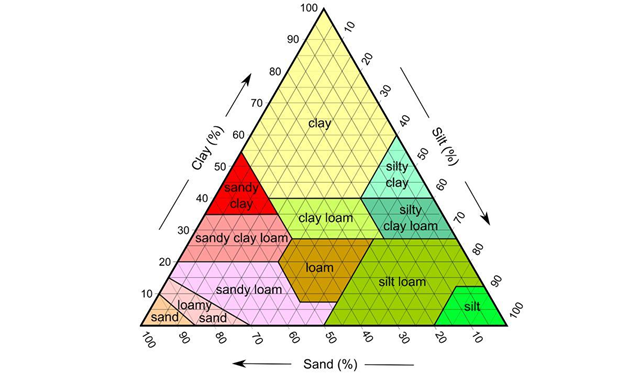 For our algorithms the texture definition will look like as you can see in the examples below:

Clay consists of: > 40% clay; < 45% sand; < 40% silt
Clay Loam consists of: > 27.5% and < 40% clay; > 20% and <45% sand; >15% and < 52.5% silt
Silty Loam consist of:< 27.5% clay; < 50% sand; > 50% and < 80 % silt

The term Loam is used to describe soil that have a broadly similar concentration of sand, silt and clay particles.
What does the soil texture say about your soil?
As mentioned above, the soil texture is a fundamental soil property and is important for crop production and all sorts of field management tasks. The soil texture gives an impression of the relative content of particles of various sizes for sand, silt and clay.
Soil particles can be either mineral or organic, the largest proportion of particles are mineral therefore it is often referred to as 'mineral soil'.
Sand defined as mineral soil particles that have 2 to 2 mm.
Silt can also be defined as mineral soil particle ranges from 0.02 to 0.002 mm.
Clay is defined to have soil particles that have diameter less than 0.002mm
In general, sandy soil with coarse soil texture, will have a high infiltration rate because the pore size is larger than for clay and no fine materials block the pores, however, the water holding capacity of sand is low. For soil with finer soil texture the opposite is the case, infiltration is low but the water holding capacity high.