The constantly growing interest for AgroCares products and services means that an ever-growing pool of potential customers raises the question: Can we rely on your data? Does your laboratory have an accreditation? Therefore, AgroCares Golden Standard Laboratory (GSL) started the process of applying for accreditation.
But what is an accreditation? What is the aim of it? Why is the implementation of the ISO system so important for AgroCares and its laboratory? Beata Tomczyk and Leonne de Bruijn working in the GSL answer these questions in this article.
What is laboratory accreditation?
Laboratory accreditation is a third party assessment of a Calibration or Testing laboratory by the Laboratory Accreditation Body (Dutch RvA- Raad voor Accreditatie), to evaluate the laboratory's compliance to the requirements of any applicable accreditation policies.
Accreditation provides the underlying assurance that organizations are adhering to internationally recognized standards. For calibration and testing laboratories, that standard is ISO/IEC 17025.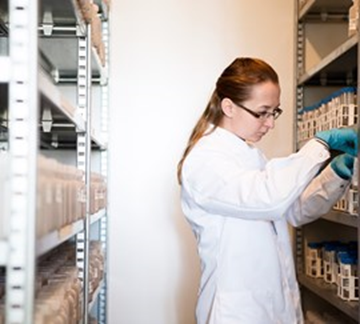 What is the standard for laboratory accreditation?
The general requirements for laboratory competence are described in the ISO/IEC 17025 standard. This standard establishes a global baseline for the accreditation of all types of laboratories.
Accreditation involves on-site assessments and performance assessments as well as ongoing proficiency testing. Assessment of competence requires persons who not only understand the requirements of the standard but have a sufficient depth of understanding about the specified tests to make judgments of competence. The assessors must also understand the principles underlying the requirements of ISO/IEC 17025, which are not always obvious.
Why is laboratory accreditation needed?
Much of the need for laboratory accreditation is driven by the market. Customers rely on the competence of laboratories to deliver the results on which important decisions are made. Accreditation enhances the public confidence in those test results. Increasingly, regulators and suppliers require laboratory test results to be accredited to the ISO/IEC 17025 standard.
For whom is it beneficial?
Besides laboratories, there are three groups that benefit from accreditation, perhaps more so than laboratories themselves. These three groups are users of laboratory services, specifiers (private and public bodies that need accurate test data to make appropriate decisions), and the general public.
What are those benefits?
Testing laboratories, like AgroCares GSL benefit substantially from a technically sound assessment and accreditation by an internationally recognized accreditation body. Here are some of those benefits:
By going through the accreditation process, a laboratory gains a quality management system, which function is to reduce and prevent procedural errors"
A "credential" that designates the laboratory as qualified and competent to provide services in the field or fields in which it is accredited.
A regular, objective "check-up" helps a laboratory's management make continual improvements in its operation.
In an increasing number of instances, entrée to a given market that would otherwise be closed to the laboratory.
Accreditation assessments help the laboratory staff stay on the cutting edge of technological developments in their field. If there is any change made in the ISO 17025 the, our laboratory staff is always up to date with all the changes.
Improved performance by laboratory staff. Undergoing regular assessments enhances staff discipline and sense of professionalism. Employees are more likely to be committed to complying with the firm's quality management system and standards of performance.
Accreditation builds trust
Users of laboratory services are also beneficiaries of laboratory accreditation. Users have greater confidence in the accuracy of the test or calibration report they are purchasing because it has been generated by a competent facility. This is particularly true for an educated client, one who is conscious of the scope of the laboratory's accreditation. Accredited laboratory data underpins product certification decisions.
How does the Accreditation process work?
Under ISO/IEC 17025, a laboratory's competence is assured via an on-site assessment process and participation in applicable Proficiency Testing programs. The on-site assessment process is a thorough examination of the laboratory's Management System and Quality System. All the quality system elements addressed in ISO 9001 certification are covered. All the technical factors necessary for producing quality data are also examined, including:
technical competence of staff
validity and appropriateness of test methods
suitability, calibration and maintenance of test equipment
quality assurance of test and calibration data
records and documents

This on-site assessment process assures that the laboratory is capable of producing accurate, traceable and reproducible data. The process is repeated at regular intervals to ensure the laboratory maintains their capabilities. It is a very intensive process conducted by a team of technical experts from an Accreditation Body.
Summary
Laboratory accreditation is becoming more and more important worldwide for procurement and regulatory purposes. Confidence in test data is paramount to product acceptance. Users are looking for assurance of high-quality products and the means to evaluate suppliers without incurring the costs associated with auditing each supplier. Reliance on third-party accreditation to perform this function for suppliers of test data is an attractive option. The use of ISO/IEC 17025 as the accreditation criteria is also considered valuable for international acceptance of test data.
Beata Tomczyk, Laboratory Manager at AgroCares: "AgroCares biggest asset is the spectral and chemical Database on which our products like Lab-in-a-Box and the scanner rely on, to provide accurate and reliable information for your measured product. Therefore, it is of the utmost importance that the test data provided by the GSL to build that Database are also as accurate and reliable as possible. That's why AgroCares will make every effort to implement of ISO/IEC 17025 norm in its Golden Standard Laboratory."